What Is A Mountain Bike Used For?
If we examine these two different species bicycle closer, we get even more specific with our definitions of what they were built for. More precisely, a mountain bike is designed and built to give riders a robust form of mobility that can handle many forms of lumps, bumps, diverse surface types and a wide variety of terrains. Road bikes, moreover are designed and built to travel on smooth, solid surfaces with no lumps, bumps or otherwise. So, again, when you ask the question [Can you ride a mountain bike on the road?" And we then stop and think [what is a mountain bike used for?" Using the more specific definition, we can see that you can absolutely ride a mountain on the road. Especially in and around the city where the road isn`t necessarily smooth and bump-free, and therefore not well suited for road bikes.
Road Worthy?
Next time you are out and about in your city center, take note of how many couriers use mountain bikes instead of road bikes and I challenge you to ask one of those guys [can you ride a mountain bike on the road?" You`ll get a short, clear response I`m guessing and you will most likely see them using a hardtail mountain bike. By using a mountain bike, couriers can easily charge their way through the city streets and really attack their ride without having to be slow and careful, gingerly hitting bumps and so on. They have no fear.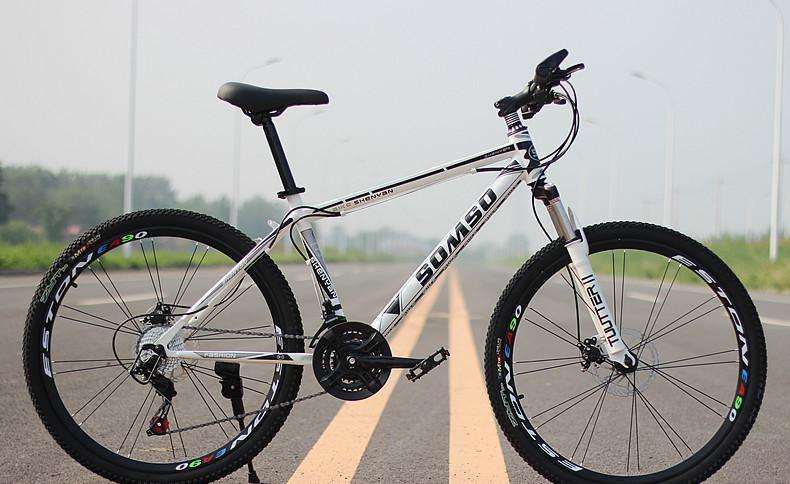 Is It Hard To Ride A Mountain Bike On The Road?
Not at all. But of course, this does depend on what mountain bike we`re talking about, for example, if you went and got yourself an awesome purpose-built downhill MTB, you are going to find those uphill battles a little tougher than you would on, say a Hybrid, but essentially it should be fine.
The thing that you will need to get used to when riding in urban areas though, is bunnyhopping curbs, dodging cars, potholes, stormwater drains, but it`s awesome bringing your skill set up. There are so many fantastic obstacles that you can use to practice little manoeuvring techniques. Stairs are amazing for developing a whole range of skills, from manuals to track-standing and bunnyhopping. So have a solid look around and be creative with your surroundings, because there are so many opportunities to practice those core skills.